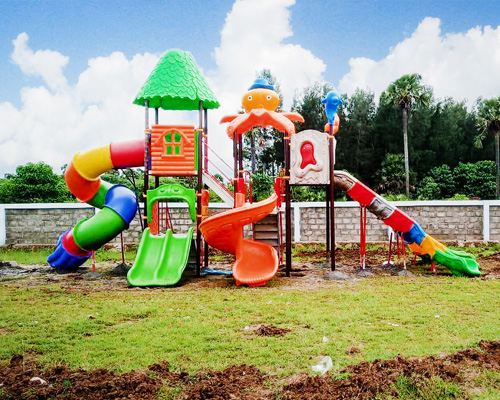 Kids Outdoor Multiplay Equipment
Being one of the Kids Outdoor Multiplay Equipment Manufacturers in Delhi, Kidzlet Play Structures Pvt. Ltd. manufactures each unit to bring a smile to kids face. Our Outdoor Multiplay Equipment designs are attractive, affordable and adaptable that help little toddlers get most of their time and be active. We carefully pick kids-friendly material and robustly design each unit, following defined industry norms. Over the years, we have made so many kids laugh with our customized Kids Outdoor Multiplay Equipment.
Offering you a complete choice of products which include Pirate Ship Play Centre, Open Gym Cycle, Kids Multi Action Play System, Rope Play Net Climbing Equipment, Parks Multiplay Station etc.
Reasons To Invest In Our Kids Outdoor Multiplay Equipments:
Park Multiplay Equipment provides kids fun and ensures their safety as well.
Add to little one's physical and mental development.
Keep them socially active and boost their confidence.
Help children develop better body balance and coordination.
Children Outdoor Multiplay Equipment is free from any sharp edges.
Professionally designed and smoothly finished, Multi Play System stands the test of time.
Find Your Design With Us!
We have a plethora of Park Multiplay Equipment, and other than that, we also customize our range according to customer preferences. We have become one of the trusted Outdoor Multiplay Equipment Exporters and Suppliers in India. Let's do some chit-chat to take the discussion ahead.